WE VALUE EFFORTS LIKE THIS
The Imam Who Saved Christians Got Humanitarian Award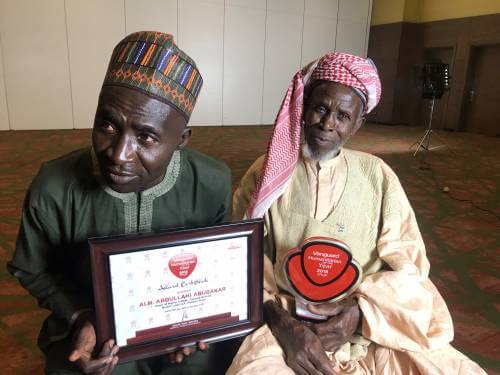 Putting Faith Into Action — the story of a courageous Nigerian who by his act of selfless valour kept alive hundreds of his neighbours and friends in Barkin Ladi Local Government Area of Plateau State during an attack on their village. Imam Abdullahi Abubakar, Chief Imam of Nghar Yelwa village was honoured at the first-ever International Religious Freedom Awards ceremony.
Abdullahi Abubakar, the 83-year-old Imam who saved more than 300 people during an attack in Plateau State, has been honoured for his humanitarian service to the nation. Abubakar, alongside governors and business moguls, was also honoured, during the Vanguard Man of the Year awards held at Eko Hotel in Victoria Island, Lagos, Nigeria. He was awarded the humanitarian of the year in recognition of his humanitarian efforts during the sectarian violence and killing in Plateaus. The Imam had helped people fleeing Birkin Ladi Local Government Area, where part of the killings took place and hid them in his mosque and home.
His son-in-law, recounts the aftermath of the events and told SaharaReporters that some of the victims spent over two weeks in their home. He described Abubakar as a disciplined and loving man, who love his children and acquaintances equally. In a brief chat with SaharaReporters after the award ceremony, Abubakar said it was an honour to have been in the position to help the people.
The holy Quran clearly states that no innocent soul must be taken unjustly, "Whoever kills a person [unjustly]…it is as though he has killed all mankind. And whoever saves a life, it is as though he had saved all mankind." (Qur'an, 5:32)
At Sakinah Medical Outreach this is our watch word, every life matters.
"The Imam is an appropriate model of kindness and fellow-feeling whose sacrifice and kind-heartedness do not carry price tags. He put their lives and safety beyond other considerations. He is a national hero".
References: