TOGETHER WE ARE TOUCHING LIVES
Kwara State Government Appoints Prof. Wale Sulaiman, a Member of the Advisory Council of Sakinah Medical Outreach as Special Adviser
We congratulate Prof. Wale Sulaiman on his appointment as the Special Adviser on Health Matters to the Kwara State Government.
Prof. Sulaiman is a renowned Professor of Neurosurgery and Spine Surgery and also a member of the advisory council of Sakinah Medical Outreach who has worked with Sakinah in many campaigns.
Professor Sulaiman has led a number of Sakinah's medical intervention programmes in Nigeria in the last 7 years and as a member of Sakinah's Advisory Council (https://sakinahoutreach.org/our-team-2/), he has provided strategic advice to the management of the organisation in meeting its mandate and aspirations. Ensuring the organisation receives expert advice and recommendations on an emerging technology or scientific advances, or to gain insight into doing business, and organization management.
He is an erudite and visionary leader in Spine surgery with a passion for developing capacity building not only in Nigeria but across Sub-saharan African countries, he is the Chairman of the Neurosurgery Department of Ochsner Health System, New Orleans, U.S. and currently serves as the Co-Medical Director of the Neuroscience Institute of the same region.
He is recognized as one of the best spine surgeons in the US. With a Ph.D. in Neuroscience, he is actively involved in neuroscience research and heads the Laboratory for Neural Regeneration at Ochsner Medical Center. And he is the founder of RNZ Global with the belief that "There are a tremendous number of brilliant Nigerians in the diaspora who will significantly contribute to raising the standard of healthcare in Nigeria."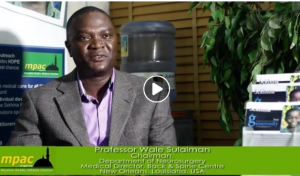 We hope that his enviable experience will help provide the much-needed leadership that will transform healthcare delivery in Kwara State and across Nigeria.
Once again congratulations!
Sakinah Medical Outreach celebrates you.
…Together We Are Touching Lives.
You can also join us to touch more lives today.
The Messenger of Allah (SAW) said:
"…Whoever meets the needs of his brother, Allah will meet his needs, and whoever relieves a Muslim of some distress, Allah will relieve him of some of the distress of the Day of Resurrection. Whoever conceals (the faults of) a Muslim, Allah will conceal him (his faults) in this world and the next." 
(Bukhari)