Asalam Alaykum Waramotullahi Wabarakhatuh,
The holiday season is around the corner, and we invite you to kick it off with us on #GivingTuesday!
#GivingTuesday is a global day of giving back. On 27th of November, millions of people all over the world are going to show their support for their favorite nonprofit during #GivingTuesday. Your support will enable us to support the needy and indigent individual of the society seeking for medical assistance.
"Any believer who relieves a distress from another believer, Allah will relieve seventy distresses from him, of the distresses of the world and the distresses of the Day of Resurrection."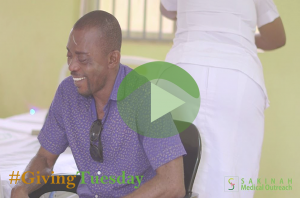 If you wish to send your donation via local transfer contact us at campaign@sakinahoutreach.org.
Please be our big hero, and help us relieve the pain of others! We can't wait to save another life through the generosity you make on #GivingTuesday.
Thank you!
 …together we are touching lives.
Regards,
The SAKINAH MEDICAL OUTREACH Team
#health #heart #goodness #greatness #gratitude #funding #help #love #NGO #CSO #UniversalHealthCoverage #philantropist #donatenow #poverty #SDG #GivingTuesday